Holiday party season is on the horizon, and for many, it's time to start thinking about what to wear. Whether it's a work Christmas party or a holiday gathering with friends and family, the right outfit can help you express your personality and make a strong impression.
Make sure you showcase the style you want by exploring different holiday outfit options. Go with something you're used to and know you'll be comfortable in, such as your tried-and-true suit separates, or step out of your comfort zone and try out fun new items, such as a playful ugly Christmas sweater. 
Things to Consider

Before exploring specific outfit options for your holiday party, there are a few things to keep in mind:

Consider the weather and where the party is. If it's going to be a chilly winter day, you can opt for chunky knit sweaters and wool blazers. But if the weather is warmer, you might want to consider lighter button-ups and ditch the additional layers.

You should also consider the setting. Work parties may call for more formal attire, while a family holiday party could be laid back with a sweater and jeans. When in doubt, check for a dress code or see what others are wearing for inspiration. 
Ready for some outfit inspo? Keep reading to discover seven holiday party outfit ideas for men.
1. Straight-cut Dress Pants and a Crew Neck Sweater
Straight-cut dress pants are a versatile option that can pair with various tops. Explore dress pants made with high-quality materials, and be sure to find the right fit and length. For a holiday party, pair your pants with a crew-neck sweater.

Men's dress sweaters vary quite a bit by material, color and pattern. Wool and cashmere are great options, and red and navy hues are in this season. Patterns are also trendy right now and are a fun way to express your unique style preferences.
2.Dark Jeans and a Wool Blazer

If your holiday party is more on the casual side, you can pull out your favorite pair of dark jeans. Deep navy and black jeans are a top choice this fall and winter, and they're sure to be comfortable and versatile.

For a trendy look, try pairing your jeans with a wool blazer. Wool is popular for men and women, and wool blazers are great for cold winter weather, especially if your event has an outdoor patio or balcony. Wool blazers typically come in casual dark grays or beiges, but some provide a bright pop of color, such as red or green. 
3. A Collared Shirt and a Fair Isle Sweater

Whether it's a casual work Christmas party or a get-together with your friends and family, a collared shirt and a Fair Isle sweater are sure to be a great choice. Consider a plain, solid-colored dress shirt that will fit nicely under a sweater.

Fair Isle sweaters are a staple every holiday season. They are a vintage choice that has made a recent comeback, especially for men. Check out different patterns and color combinations to find the sweater that catches your eye.
4.A Colorful Button-up Shirt and Loafers
While you might like to play it safe with neutral-colored clothes, a holiday party is a good time to spice it up and try out a new bold hue. Colorful dress shirts are a playful choice because they embrace the festive aesthetic. If the temperature drops before your party, you can layer your button-up shirt with a sweater or a blazer.

Loafers can also be worn for other events and seasons. But if you're dealing with ice and snow, you can always swap them out for a pair of dress boots for men. 

5. A Turtleneck and a Well-Tailored Suit

Turtlenecks are not only stylish but also cozy. A turtleneck and jeans or chinos cater to a casual gathering. However, a turtleneck under a tailored suit is best for a formal event. Opt for a pair of glossy men's dress shoes and swap out the laces for a pair of eye-catching colored wax shoelaces.

If you wear a tailored suit, you can choose a coordinated top and bottom or mix-and-match suit separates to create a thoughtful ensemble.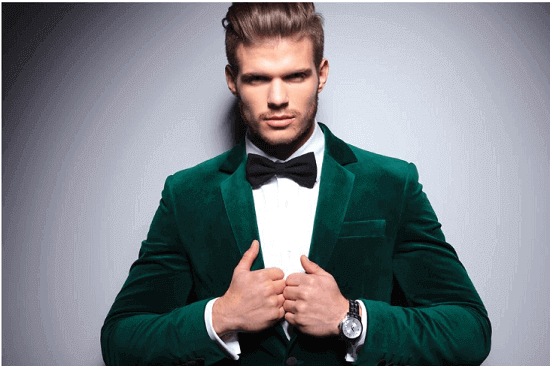 6.A Crushed Velvet Blazer and a Bow Tie

If you know you want to wear a blazer but want to stand apart from the other guests, try wearing a velvet blazer. Through a process of twisting and applying pressure, the velvet takes a unique appearance. It is still shiny but takes on a unique pattern. To accessorize your already unique outfit, grab a bow tie. Bow ties are a fun accessory that can dress up your outfit and complete the look.

7. An Ugly Sweater or an Ugly Sweater Tie

Put your spin on an ugly sweater party by breaking out an ugly sweater tie. Ugly sweaters are fun and colorful, but they are expected. Put together a more reserved outfit while still participating in the event by finding an ugly sweater tie that combines colors and printed-on knit patterns with characters like snowmen and reindeer. This might also be a good option if you're transitioning from the office right into your ugly sweater party and don't want to do a full wardrobe change. 
Have Fun With It

Holiday parties are a time to have fun with friends and coworkers, so choosing your holiday outfit should be a fun experience too! There are many men's fashion trends this season to meet various style preferences. Explore your options, and brainstorm what you're going to wear to your work party, family dinner or get-together with friends. You may even be able to wear some of the clothing afterward, making your new holiday attire a worthwhile investment.