The year's biggest trends in women's dresses widely favor comfortable materials, fun shapes and, thankfully, flattering cuts. A few notable elements include classic A-line styles, puffed sleeves, ruffles and a range of necklines, making a dress the perfect option for any occasion that calls for a cute, casual look. Since casual and semi-casual dresses don't necessarily need to be paired with heels, there is much room for shoe variation. If you decide to forgo the heels with your next dress outfit, here are the best shoe styles to wear.
1.Strappy Sandals:
It's no secret that a pair of cute sandals is a dress's best friend during the spring and summer months. However, you might not know that your sandal choice can have a huge effect on the end result of the outfit. A pair of sandals can help you execute a super cute casual look or elevate the outfit and add a bit of dressiness. 
Styling Tip: Pair romantic and super feminine dresses with delicate sandals that feature small straps. For a look that's edgy and chic, go for sandals with wide straps and metal buckles. 

2.White Sneakers:
Whether you're going out to a casual lunch, running errands or packing for a weekend getaway, you can never go wrong with a pair of cute sneakers in a bright white shade. White sneakers throw in a sporty element that pairs perfectly with a casual mini or midi dress. You can rock this combo with a dress in any color or print paired with your favorite sneaker style and material. 
Styling Tip: If you love wearing sneakers with dresses, you can take the look to the next level by amping up the sporty vibes. Start with white sneakers and add a white or black t-shirt dress as the base of the outfit. Add cute jewelry and pull your hair up into a high pony as a finishing touch! 
3.Ankle Boots:
Your list of shoe options doesn't end with styles that only reach the top of the foot. For a little more coverage and an enhanced look, try creating an outfit with a dress and a pair of ankle boots. These trendy boots are commonly worn with jeans to slim the ankle and add a bit of extra lift in the heel, but flat ankle boots are just as effective for style purposes. 
Styling Tip: A dress paired with ankle boots works well for so many different occasions, including date night, a casual dinner or a post-work day happy hour. You can personalize the look by choosing ankle boots in your favorite style. Whether you love western style boots, platform soles or a style that features smooth leather, the look is yours to create! Get creative and pair delicate dresses with edgy, chunky ankle boots for a "model off-duty" look.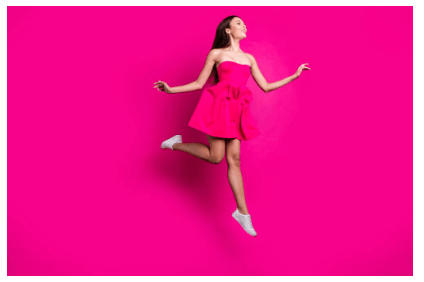 4.Classic Flats:
A cute dress always pairs well with flats. Though the iconic ballet flat style probably comes to mind when you think of women's flat shoes, the term can also encompass other specific styles like flat loafers, open toe styles and more. Flat shoes are a comfortable alternative to heels that still allow for a dressy overall look. 
Styling Tip: Why not have a little fun with your flats? There's no question that a pair of black flats resides in most women's closets, but if you're looking to add a little something extra to your outfit, your shoes might be the way to achieve that goal. Thankfully, there are a whole lot of flat shoe options to choose from, including patterned, textured and bold colored styles. Match the color and style to that of your dress or include them as a vibrant pop of color when paired with a white, black or neutral dress. 
5.Slip-on Styles:
It doesn't get much easier than a slip-on shoe, especially when it's being paired with a one piece outfit option. A dress with slip-on shoes is a great option when you're in a hurry or preoccupied. You can count on the combination to be polished and professional at work and comfortable enough to be worn on the weekends while you're out with friends. Consider this your hassle-free outfit option when you want to wear a dress but don't want to put forth a lot of effort. 
Styling Tip: For a flattering look that gives off major chic vibes, throw on a neutral dress and pair it with tan leather mules or a similar style. The result is a cohesive monochromatic look that taps into natural colors and always looks pretty.